Through My Eyes
Erik and I started our Spanish classes two weeks ago. Our homework the other night was to write an email, in Spanish, to a friend about an upcoming visit and to describe that visit by including details of our day and life. I wrote mine to my friend Kate. In the letter I was expressing excitement about her imaginary trip to visit me. My pen was going crazy, floating across the paper telling her all about my life in Spain. After I completed the letter, I got a little sad. I too miss things from home. Well, things, but mostly people. That's when I realized I have yet to write about our trip abroad through my eyes, with my fears and with my emotion. So, here we go.
For years, I would talk about "living abroad" with such pure excitement and adventurous spirit it was as if it wasn't really my life. It was as if I was playing a part in one of my favorite movies. I believe that what actually helped us achieve our dream and turn that "movie" into reality was the fact that both Erik and I wanted this experience with our whole hearts. Over the years I had said to Erik and others many times that it would be my only regret in life thus far if I didn't do everything I could to try and make this happen; to live abroad for a year. Erik felt the same way, so we helped each other achieve this goal.
To make this happen, we needed each other.
This is important because there were days when I was fed up and wasn't sure all of the chaos was worth it, but he would be there to pick me up and vice versa. I fully believe that if one of us weren't all-in on this huge decision, it would have been very easy, in those moments of adversity, to say, "We don't have to do this." Those words were never spoken. Not living abroad, was not an option for either of us. The kids, YES, but Erik and me, NO.
As I have said, the moment things became real was when we received our Visas. And, ironically, that was the first time I questioned anything. Erik and I physically had our visas in our hands. We had just shut the door to our rental car, which was parked in the parking lot of the Spanish Embassy on Wilshire. We looked at each other and at the same time said, "Holy Shit, are we really doing this?" That will forever be puzzling to me. Why did it take the moment when it became official for me to truly absorb the enormity of this decision? And both of us at the same time, too, with the same feeling!
In all honesty, I believe it was due to the fact that I was so busy leading up to that moment and getting everything organized that I never allowed myself to doubt. The same is true for the process of physically getting to Spain. You all have read and know how daunting that task was, therefore, again, I didn't allow myself time to think about anything else. But once we arrived in Santander and even that first night when Spider was crying himself to sleep I sat up for a good hour or so with tears wondering if I had just made a huge mistake. I remember thinking, "What have I done?!" It didn't last long but I had thoughts like this for a good week and a half every now and then throughout my day. Also, for the first time in quite awhile, I had a bit of time to myself, with just my thoughts of life, not business or work and not about what was next or what could be. It was not the time for dreaming about the big decision it was the time for living the big decision. And that time to myself could have been destructive but it wasn't. I now see that time as a gift. It allowed me to slow down a bit and breathe.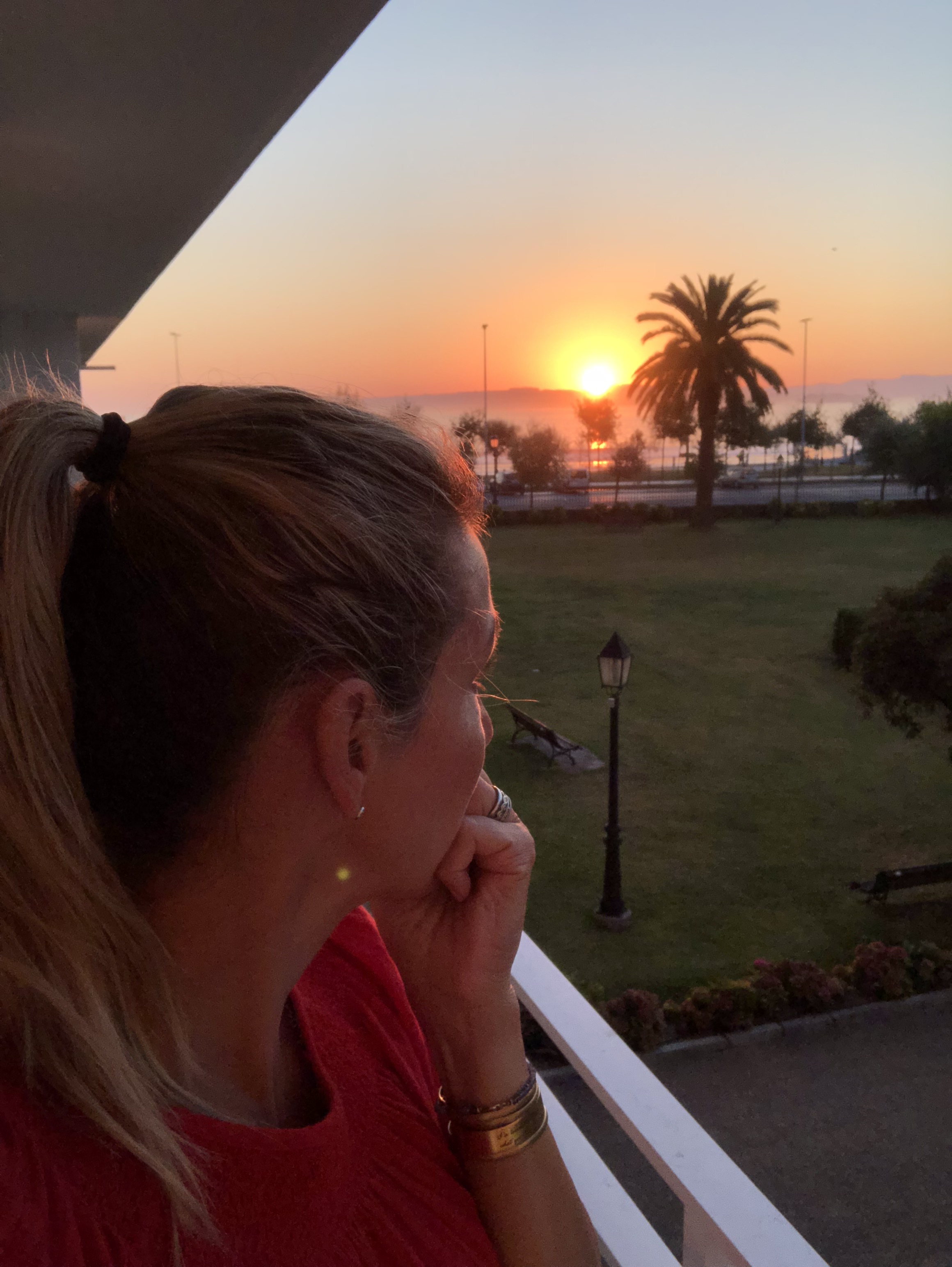 Take a moment to breathe.
The occasional doubt has faded and although I miss many parts of home, I am grateful for the here and now. I clearly remember one night on the beach about a week into our trip when we were playing tag. It was about ten o'clock and the moon was so bright it was lighting up the enormous sandy beach. The kids wanted to play tag and, of course, because we are also 10 year olds, we said YES, while tagging someone. We ran around and screamed and laughed and were so out of breath. It was in a moment of pause when I took it all in and new that this was one of the best decisions of my entire life. I stopped everyone and pulled them in close and said, "Do you know how lucky we are? How lucky we are to be able to do this, together, right now?!" The kids are young but not too young to get it and that made me so happy. I felt, right then and there, that they were going to remember everything about this year for the rest of their lives.
Gratitude has been a feeling that also seeps into my day often. It is a feeling of complete and overwhelming appreciation for this opportunity. Although I used the term lucky, we had to work hard to get here and we continue to work hard to make it happen without spending too much of our savings but we see the value in the life experience above all else. We tell our kids all the time not to get sucked into the "next on the list or schedule" kind of life. Have a reason for doing something beyond, "I was told to" or "everyone else does it". We knew that one of the greatest gifts we could give our kids was for them to see us doing exactly what we were asking of them, to buck the system and do something really big and very different, ON PURPOSE.
A friend of mine gave me this cute little framed saying, "Live life on purpose" because that became my life motto at 40. It's not unlike "living life to the fullest" but I do think it brings a persons awareness into the matter. Be aware of why you are living life to the fullest. As Will Smith just proved, doing something that scares you can be the best way to FEEL ALIVE. Right? I feel this way, and it doesn't always have to be jumping out of a helicopter, it could be changing jobs, training for a race, trying a new sport, switching majors, applying for a job, telling someone about a goal or moving to another country for a year with your family.
But often times, when you make these big moves and buck the system, you feel like you have to get everything out of every day. Or, at least, that is the way I felt. In the beginning I had to remind myself of a couple of things. First, I had to remind myself that I was not on vacation. Everyone around us was visiting Santander for vacation and we got caught up in that. Staying up late, fitting a million things into our day and eating wonderful meals. It took a moment for me to remind everyone that we don't have to do everything right now as we aren't just visiting, we are living here. "Give yourself time" became a constant phrase. I also remember thinking that a routine might be a healthy addition. This leads me to the second thing of which I had to remind myself, don't get sucked back into the "same ol, same ol" of overscheduling. Although I have not gone overboard with too much structure or too many scheduled activities, just enough is grounding and essential to a happy family. This, of course, all came together when the kids started school and later, when the big kids started school.
I guess, structure makes me feel good. I like having a bit of a daily routine to look forward to. The idea of waiting until I wake up to figure things out is not my normal. Doesn't mean it's wrong, it's just not my normal. It was healthy for all of us to live a little unstructured life but a healthy combination of both is where we have ended up. Since this blog started with my homework assignment and my email to Kate (who I called while writing it) I feel it is necessary to get back to my daily schedule. That's what it was about anyway.
Daily life is not that much different than at home. I get up a bit later, at 7:30am. If I want to run before the kids go to school, I get up at 6:30am.
When I get up at 7:30, I immediately rush out to our balcony to look at the ocean and the sunrise. I love watching that beautiful sun go up and go down. I feel a responsibility to see every single one. And I especially feed off of it when the backdrop or "frontdrop" is the ocean. I take time for a coffee and a pause, if the timing allows. I give the kids stages of wake-ups with the first wake-up at 7:45 and the real wake up at 8am.
All four of us have the same basic schedule in the morning. Get up, get dressed, eat breakfast and go to school. The kid's school starts at 9am and ours starts at 9:05am. The kids are always on time and we are always a few minutes late. Our school is called Inlingua. I believe it is a chain of language schools but, either way, our teachers make it awesome. Their names are Maria Antonia and Raquel. Neither of them speaks any English in class. Maria Antonia seems to know quite a bit of English although she refuses to say the words "sheep" or "sheet". She thinks that when she says "sheet" it sounds just like "shit" and she doesn't want to say a bad word. Raquel told us the best story on the first day of class that secured a special place in our hearts for her. See, her first name used to be Fernanda but for some reason, still unknown to her, her father changed her name to Raquel when she was 13 or 14, she can't remember. She told us this whole story in Spanish and for a few minutes, we weren't sure we heard it correctly. The funniest part is that it all stemmed from this question she authentically asked Erik, "Do you like your name?" (nobody can say Erik here…the struggle is real) That's when she went into her tale. She says that in her pueblo, small town, she is Fernanda, but in Santander she is Raquel. We are still unclear as to whether or not she likes her name or whether she is bummed her dad changed it. We know that no matter what she is called, she makes us giggle and we have learned a ton!
Maria Antonia teaches our class from 9-11am and then we have a "pausa". It could be my favorite word to say in Spanish. During our pausa, I go for a walk to the beach. It is only 3 blocks away and it refreshes my brain. I walk to the edge of the stairs that lead down to the ocean, pausa for a moment, breath in the sea air and then walk back in time for 2 more hours of class with Raquel. Learning a language is work, intense and awesome work. And I am hooked.
Erik and I try to speak in Spanish to each other for a good hour, or so, after class, which we feel helps our brains absorb the words, conjugations and phrases even more. It is funny, though. We giggle a ton about all of our errors and failed attempts. Even our professoras have taken to our saying of "perfection is over-rated". I find myself trying to translate everything I see, think or hear. For instance, when I run, I listen to my music out loud, not with ear buds. When I hear the words of the song, I try to translate it into Spanish. It, of course, doesn't always work but it's fun because little by little I can tell I am learning more pieces to the songs I listen to every day. Progress is beautiful.
Learning the language was at the top of my list of goals for my year abroad. Well, family is tops but wholeheartedly learning this language was a close second for all of us. And as easy as that may seem by immersing yourself in a country, immersing yourself in the language takes incredible discipline. When the kids get home from school, they don't want to speak Spanish as they have been speaking it and hearing it all day long. They want a break from the language. I, on the other hand, try to say everything in Spanish and that pisses them off, especially because they constantly have to correct me. It probably doesn't help that I find that interaction hilarious and laugh uncontrollably.
The part of this whole immersion thing that I am starting to realize first hand is that we are hearing Spanish everywhere, on the streets, in the store, on the television and outside the windows of our apartment. I fully trust that hearing it, no matter how or where we are hearing is helping us learn. The kids are thrilled because I allow the television to be on all-day. Sometimes we watch new Spanish shows but mostly we tune into American shows dubbed in Spanish. My hope is that our brains are constant sponges, soaking up every drip of Spanish no matter where, how or when.
And because my brain has been so focused on language, I have not allowed myself to think about how much I miss things. Of course I miss my friends, my family, my dogs, incredibly and my bed, my house, my routine and my food, a bit. But, I am continually reminding the kids and myself that missing things is natural and good. Of course we miss the things we love, of course. In fact, it's difficult for me to look too far on my iPhone pictures and see all of my friends and our last days in Park City. When I see those pictures I get a bit sad, or perhaps nostalgic. I look at the picture and I think of how long ago that seems and how much emotion I was feeling at that time. It's a combination of the effort and emotion within the photo itself that makes me tear up.
And I tear up because it's a big deal, what we are doing. I have made a few other big decisions in my life. One that was just as big but much more finite was when I chose to give up my eligibility at Stanford and "turn pro" when I was 19 years old. I chose to give up my scholarship and earn money through swimming with the goal of earning enough to pay for my Stanford tuition. I wrote that tuition check seven times for seven quarters and although I loved being a Stanford student, I grew up a bit with every check I wrote.
Big decisions help you grow. They are rarely perfect and they rarely have a right or wrong answer. I think about this often over here in Santander as a mother. I wonder if the experience of living abroad will help our kids to make big decisions and choose to embrace change and uncertainty. I often wonder if they will choose to study abroad and explore the world or if they will have had enough. Time will, of course, tell and I will be on the sidelines watching and supporting. In this time, the meantime, I will be pushing myself as if I was twenty again. I will be pushing myself to speak Spanish and get words wrong. I will be pushing myself to drive a stick shift and maneuver through streets that are only made for one car or less and I will be pushing myself to try things that I may never be able to try again for now is the time to do all of it. The time is now.