Sin Trabajo Por Un Año
"So, what are you doing for work?" I don't get that question much anymore, but, naturally, I got it a lot before we left on our year abroad. And, the answer was and might continue to be a bit hard for me to say out loud. For the first time, in as far back as I can remember, I do not have a schedule. And I LOVE schedules. I LIVE for schedules. Hardcore schedules, full of work, that started when I was young. My parents divorced when I was 7 years old and my mom's entire life hung on the balance of her schedule working out precisely as planned. So much so that if my brother or I forgot to empty the dishwasher, we threw off that balance completely! So, to come over to Spain with the direct knowledge that I would not be working for an entire year and therefore, would not have a rigid schedule for 12 months was ridiculously frightening and exhilarating.
If I take a close look at my life, I have been, essentially, "working" for most all of it. I started swimming at the age of 4, really took it seriously by the age of 8 and then went straight into my profession as a TV presenter by the age of 20. To say that I lived a heavily scheduled life is an understatement. As a swimmer, I was up at 4:07am with all my bags packed the night before which included my swim bag, "clothes for school" bag and my school backpack. I would walk by my mom and step-dads room, which would wake them up and head out to pour some milk into my bowl of grape nuts cereal. (anyone who eats grape nuts knows you can chip a molar if you don't let them soak) They would soak while I got all my bags out by the door. I would eat in about 2 minutes and then be in the car, with my mom or step dad by 4:15am. Yes, 8 minutes to get up and out the door. No snooze button, ever.
I would go to practice, then go to school, then go back to practice and finally return home around 7:30pm to eat, do homework and fall asleep. I would then repeat everything the next day until Sunday when I would sleep as long as I could, watch Football (depending on the time of year) and eat as many waffles as I could stuff in my pie hole! I never missed a practice, not unless I was deathly ill. I did, however, quit swimming twice. Once cause I thought everyone was doing super fun things after school (I figured out that was not the case after about one week) and a second time to be a cheerleader in 7th grade. I was an awful cheerleader.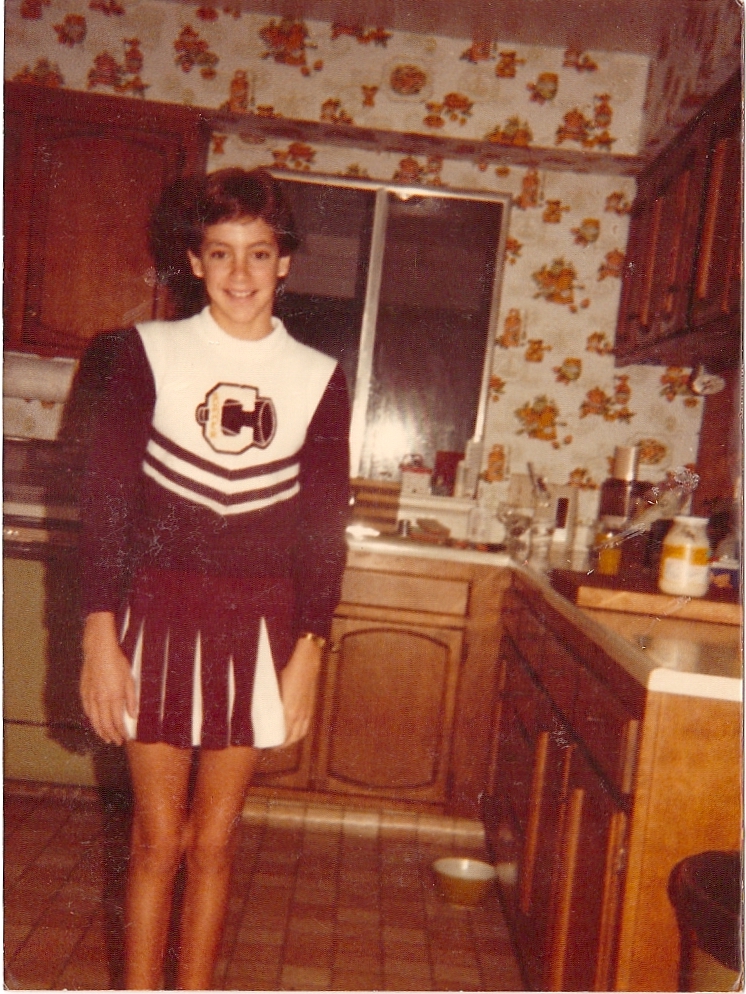 My year as a cheerleader. I think this picture says it all.
I always found my way back to the sport and maybe, even more so, to that schedule. I loved it and I honestly think I became addicted to the weight of my schedule. I bet a lot of people reading this right now can relate. I loved putting my head on my pillow every single night, completely exhausted, knowing I had used every single millisecond of my day to it's fullest. But the weight was heavy. And I remember many times wishing I hadn't been introduced to that kind of productivity. Isn't that funny. It's the mentality that got me to the Olympic Games but to live with it every day can be grueling.
Once you know how much you can do every single day, it can be difficult to let yourself relax and take a breath. In fact, that was just the case after the Olympic Games in 1992. I was immediately asked if I was coming back for the 1996 Olympic Games in Atlanta, an obvious question and I gave the obvious answer, "Of course." But in reality, that was four years away and I couldn't know, as I had not yet allowed myself a moment to take in all that I had experienced.
An incredible moment in my life.
Let me take a moment to say that I would not change a thing about my schedule and the way I lived my life. Some of the most imperfect moments have had huge influences on where I am and who I am. One in particular was when I was done with the Olympics; my best friend was concerned about my "life after the Games" and said that I needed grounding and normalcy. She asked if I wanted to room with her and 7 other girls (9 women in total) in an 8 bedroom duplex off campus in Palo Alto. She and I shared a tiny single bedroom and it was a perfect decision. I got a taste of life outside of swimming. My world, that year, was a mix of school (at Stanford), working (as I gave up my eligibility) and swimming. That time period was one of the toughest, schedule-wise, for me. I was traveling all over the country, swimming in random pools in random cities all while keeping up with my studies. I believe part of what made that year so impactful was the fact that I got a glimpse of what life outside of my sport looked like and I realized for the first time that I didn't need to make the obvious decision. That is when I retired from my sport and dove into life, school and my career wholeheartedly.
A few years later, that same incredible friend who convinced me to live in the duplex decided to treat herself to a backpacking trip around the world after making it through 3 years of law school and taking the Bar Exam. At the time, I was working for the NBA, Nickelodeon and probably 5 other companies and my schedule, once again, was super packed. We were both in our twenties and I was already full bore into my career. I remember her planning her trip and saying, "Meet me in Africa!" or, "Meet us in Italy!" Looking back, this is probably my only true regret; the only thing I would change about my life. I would have figured out a way to join her along the way to experience those moments and travel with her. I am not mad at myself for the decision I made as at the time I truly was busy and doing everything I was supposed to do. And, a lot of it.
There were times during the beginning of my television career where I was in 4 different states every week. I made it a game to keep all of my boarding passes from my flights for an entire year and the stack was endless. I was and am still so very grateful for every opportunity that came my way and I always felt the need to try it all and say "yes" to all the wonderful requests, even when I was exhausted. Flying all over the country and at times, all over the world was so very normal for me. Jet lag didn't have a place or value in my vocabulary. If the sun was up, I was too. I really did and do have this true need to live every single moment.
To watch my family and the surf before jumping in myself.
As I sit here in Spain I think of how grateful I am to have felt the need to teach myself to slow down. It isn't in my blood. But I knew I needed it. My parents would say to me all the time, "Summer, you have to slow down. I am worried about your pace. Take care of yourself." I knew I would, at some point. I knew I would look at life less like a race and more like a wonderful experience worth enjoying as well as living. So, for the first time since I was basically 10 years old, I don't know my next move. I am not working towards anything or focusing on my next goal within my career. As I write this, I have a healthy mix of emotion. I feel like I could either break out in hives because I am so nervous or I could jump out of my skin because it's new, fresh and exciting!
And, yet, I also wonder if what I just typed is true. Is that really the case? Tokyo 2020, yes, I hope to be there, working my butt off and experiencing every single moment. And, yes, I am learning a language and I work really hard at it every single day. But, it's without stress. So, maybe that's it. If I am not stressing out, am I really working? Ha! I am not stressing and that is the greatest gift I have given my family and myself.
So, yes, maybe how we normally see it, I am not working towards anything, but I do feel like I am bettering myself by putting myself in this wonderfully, uncomfortable position. That, in and of itself, to many people may be considered "working towards something".
Letting go of the control, freeing ourselves from the pace and setting new examples of living are just a few of the things that have come out of taking on this lifestyle for the past 7 months. It's not easy for me but it is good for me. I wonder if, when I get back, I will fall right back into the same routine I had before I left. And I also wonder if my career will be non-existent. As a 46 year-old woman with a 26-year career in television, it's daunting to start a new. The incredible joy of where I am right now, however, is that I am ready to face whatever comes my way. I have hit the reset button on my professional life. I am in the driver's seat and if I want to keep it in 2nd gear for a while, I'm ok with that. In fact, I think it's wonderful.