The long way home
I was torn, as I have written before, as to whether or not I should have just booked us an "out and back" ticket from Europe. In other words, should we have landed in Spain Aug 17th, 2018 and left Spain for the USA July 17th, 2019. That would be logistically so much easier. One roundtrip ticket in and out of Europe. But if there is one thing, we have learned from this year it is that easier isn't always better. And so, we took the long way home.
We had a couple of wants. We wanted to have a ski camp in New Zealand and I wanted to take my family to Africa. With those two separate agendas in the back of our minds, we thought the end of this year would be the perfect time to fit that in. And I reasoned that it would be a much shorter flight from Europe to Africa. So, that became our plan. And that plan became concrete about a month into our journey.
At our apartment in Santander
At that moment we trusted that our Spanish roots in culture and language would not be forgotten with our 3-week journey back to the United States. We trusted that a little separation from the end of our year abroad and our return might make it easier for everyone. The emotions of missing our Spanish home and the adventure of the year might be easier to stomach. But this was all just an idea, not a certainty by any stretch. And we did have some worry as we neared closer to the end of our 11 months in Spain that we may have gotten it wrong. We were unsure if our Spanish would stick. But do you know what? Since leaving Spain, we have run into Spanish speaking people at every stop. At the Thai restaurant in Amsterdam, at the smaller safari airport in Nairobi, on the streets of Wanaka, New Zealand and at the valet parking of our hotel in Auckland. And with every encounter, we started to speak Spanish with them and they happily obliged.
And now, as I sit on our plane home on Aug 11th, 2019, I don't know if there was a "right" or "wrong" way to get home. What I do know is that we have soaked up the long way. Amsterdam is an extraordinary city full of flavor and vibrancy. The museums in Amsterdam are incredibly fun and interactive. They are not overwhelming but rather engaging with their tours and options for kids. I loved it. The kids loved it. And the food was delicious with so many options. We stumbled upon surprising cafes and we discovered Poffertjes, which we have decided are some the greatest culinary creations ever! We rented bikes and lived to tell the tale.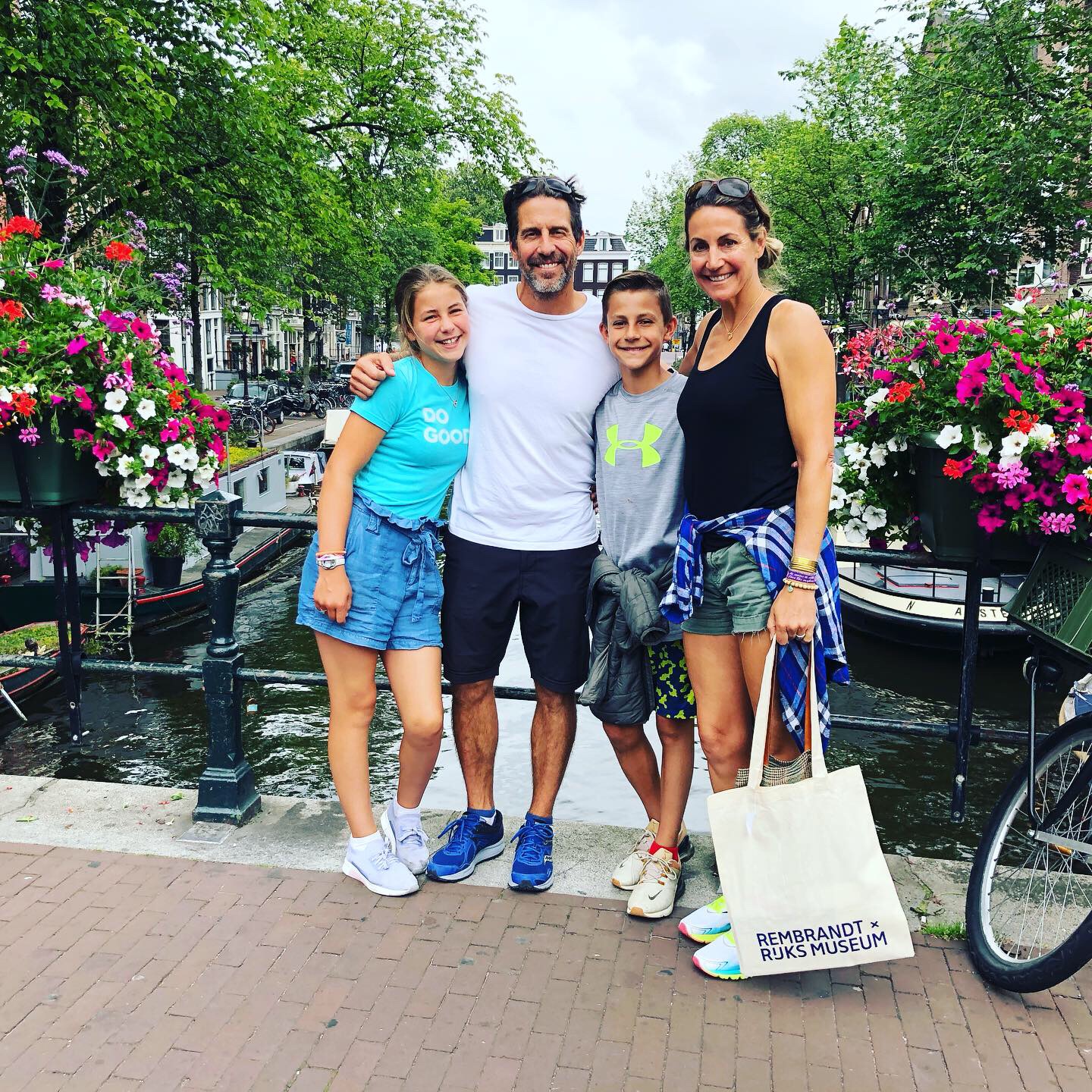 And then Africa. We arrived on the ground in Nairobi much later than expected but the airport was still buzzing with half asleep tourists looking for their rides to their hotels. And we were 4 of them. Spider took charge of our bags and we quickly found our hotel driver. I was slightly worried for the kids as mosquitoes absolutely love them. Spider would wake up all the time in Spain with 4 or 5 mosquito bites which I was convinced he was allergic to. So my first night in Africa, even though this was my fifth trip to the continent, I was a bit worried about keeping those pesky insects away.
The next day we flew to our safari. And, honestly, there is not enough time for me to write about how much I loved this trip, where we stayed and the fact that we got to experience it all together. There just are the right words or enough space for me to explain that right now. I will just say this, from the moment we got off our little Safari Link airplane we felt the love and care of Kicheche (the camp where we stayed). We stayed inside the Mara Conservancy. We had a family tent that required us to shine a flashlight for security if we wanted to leave our tent earlier than 7 am (which we did every day) or if we were going to or from our tent after 7pm. We were staying with the wild. No fences, just our tent and zipper and the wildlife. Every night we would hear something. One night, there was a huge thunder and rain storm. Upon walking back to our tent, with security, the flashlight panned off to the left of the path and not more than 10 meters from us was an African Buffalo. (the one thing we were told is a lone male African Buffalo is VERY dangerous) We had no idea if this buffalo was male or alone but we stayed the course and made our way into our tent. That night, while we were trying to sleep we heard so much commotion. Elephants, buffalo, giraffe were all active with the rain and they were right outside out tent. It was exhilarating. The game drives started at 6:30am and went until 11:30am with a breakfast spread out in the Mara. The afternoon game drives were a bit shorter but we always seemed to find something super interesting which kept us out longer than most others. One night we arrived back at camp after dark. And the Mara is quite dark when the sun goes down.
Speaking of sun….my new favorite thing is a "sundowner". A beverage during sunset. All of you who have been on safari know this term but we just learned it. It is safe to say that Africa was everyone's favorite trip of our year abroad. The kids will say it without hesitation or doubt but when I am asked, I pause for a second to really think through all the places we have visited…
1. Jerusalem
2. Rome
3. Zell um Zee, Austria
4. Wengen, Switzerland
5. Granada, Spain
6. Toledo, Spain
7. Zaragoza, Spain
8. Barcelona, Spain
9. Madrid, Spain
10. Venice
11. Croatia
12. Slovenia
13. Amsterdam
14. Kenya
15. Sydney
16. Wanaka, New Zealand
17. St Arnaud, New Zealand
18. Auckland, New Zealand
And after thinking through all of these wonderful cities and countries we have visited, I have to agree with the kids. Africa is incredibly special, not just because of the amazing animals you see so very up-close-and-personal, but because you have no choice but to experience the wonders together. And "together" was our theme for this year.
Our list of adventures throughout the year was quite impressive and yet, we feel as though we have only scratched the surface. We have a long list of places we want to explore. After Africa, we took the long, over-water flight to Sydney. It was actually our smoothest flight in that all of us slept a solid 8 hours. It was amazing. We arrived and almost forgot we should feel jet-lagged. I think it helped that as soon as we arrived at our hotel, we got the biggest hugs from my best friend and her daughter (Heidi and Mia).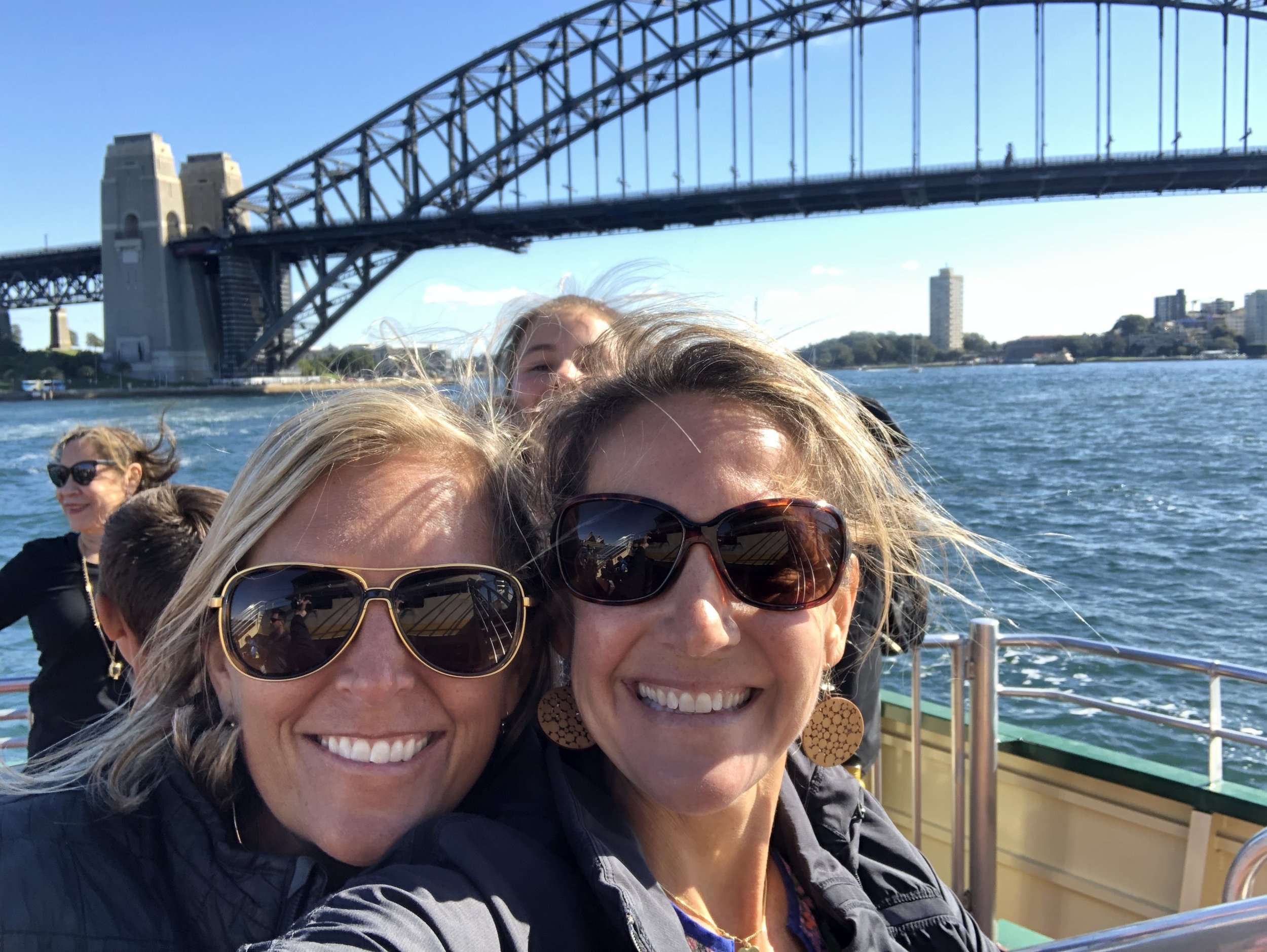 We only had one day in Sydney and the weather was clear and with blue skies. We took a ferry and got to see Sydney from the Bay which I always think is spectacular. We left for Queenstown the next day. And, remember, Wanaka, New Zealand was our inspiration, some 15 years ago, for living abroad in the first place.
In total, Erik has spent years in Wanaka and the South Island in particular. After all, skiers chase the snow and during our summer, you have to head south…really south. So, the US team would go to New Zealand. At least the "tech guys" would. (slalom and giant slalom are tech guys) I met Erik in November of 2003 and I experienced Wanaka for the first time in 2004, I went from the Summer Olympics in Athens, Greece to Queenstown, New Zealand. And I have loved it from the very beginning. Just like any wonderful, small town, it has grown a ton but it was truly magical to finish our year abroad surrounded by the people, place and culture that was the origination of our dream. And we were able to experience it all with Heidi and her family. The skiing conditions were less than ideal during our stay but that didn't stop the ski crew from trying. Erik organized that ski camp I was talking about at the beginning of this blog. Three families joined us in New Zealand. And the snow arrived in a big way!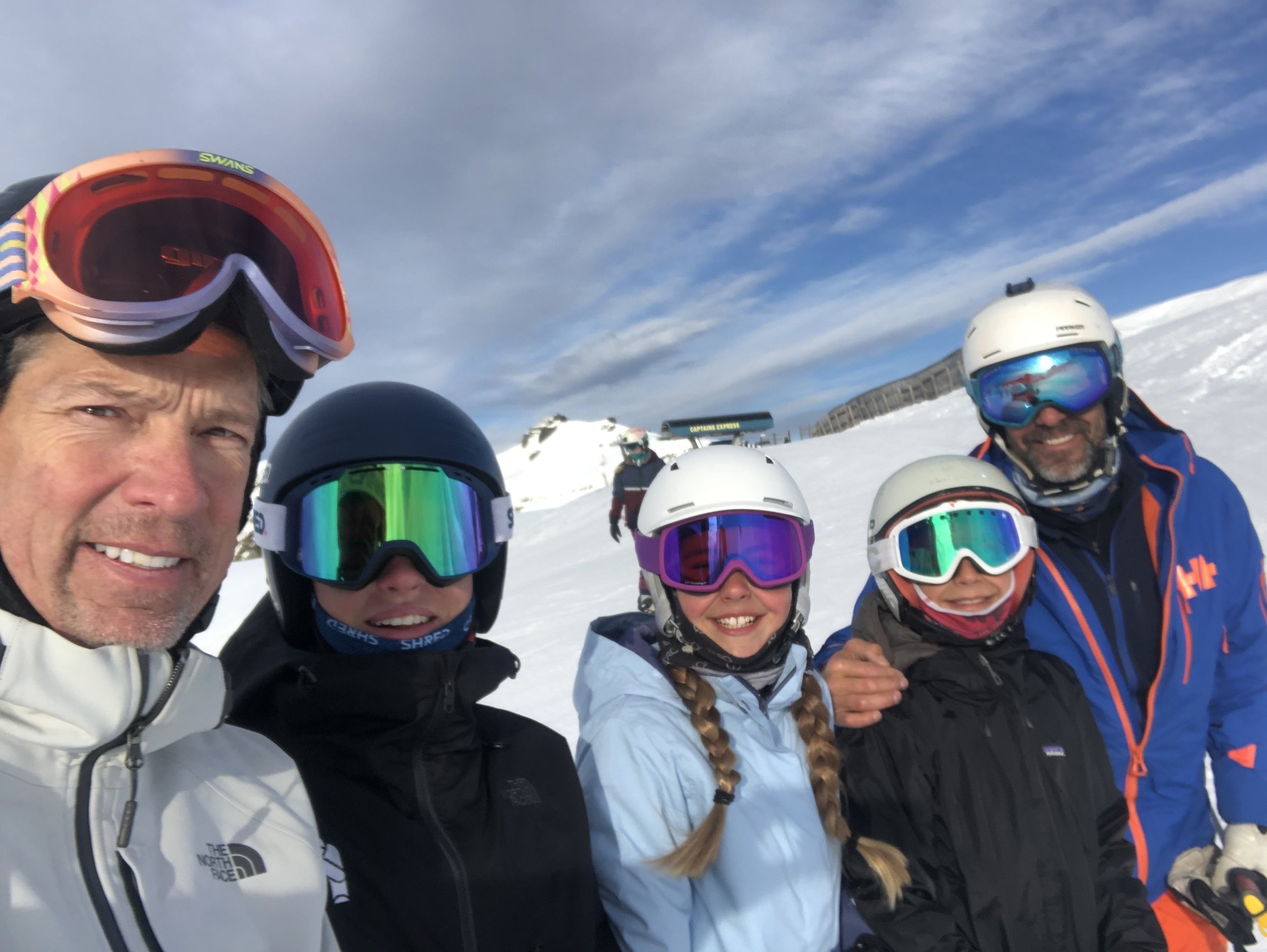 But it really arrived when we went up north of the South Island to a little ski hill called Rainbow. We said goodbye to Heidi and hello to our friends from Coromandel, New Zealand. We stayed in the smallest little town called St Arnaud at the most amazing Air BnB. The weather was brutal but the ski camp was a huge success. The kids skied gates that both Erik and his cousin Fritz set up. They would come back to the Air BnB to hit the hot tub and then we would watch video of their runs.
Again, New Zealand was close quarters where we got to really "be" with one another. Beyond skiing, the kids went Bungy Jumping….yes, they all wanted to do it and the place, to my amazement, allows kids to do it. They jumped from the Kawarau Bridge and the AJ Hackett Bungy Centre. It was ridiculously cold, I was crazy nervous for them but, each one of them jumped right off without hesitation.
With each of these stops, however, I think my crew was growing more and more anxious to get home. I don't remember any of us saying it out loud but I think we were all sort of counting the number of hotel rooms until we were finally in our own beds. And I think that sensation was very normal. But you know what I did that I wouldn't change? (And, I say it like that because it was a bit uncomfortable.) I paused for a day in Auckland before I booked our flight home. I gave us one and a half days by ourselves. We said goodbye to the cousins and to our friends and then we had a dinner and a day to talk about our re-entry and were able to re-live a few of our favorite moments and write a few more pages in our journal. To Erik and I, that was extremely important but also difficult to do. We all wanted to get home. It was nice to pause the rush.
Our travel day home was full of intense smiles. Those really intense smiles where your cheeks hurt after a while. We were thrilled to see everyone but we were also quite proud of ourselves. We had done it. And then as soon as we said, "We did it!" We would think, "Oh my god, I can't believe it's over." It is truly remarkable how emotions can mess with your brain. Or maybe, your brain messes with your emotions. Either way, this was the beginning of our re-entry and that is why re-entry is complicated. Once in Salt Lake City, we felt the love. Just down the escalators, we had a crew of family and friends to welcome us as if we were coming home from our Mormon mission. And in a way we were coming home from a mission. We hugged and cried a bit and smiled and laughed. It was sweet and wonderful. I took a moment, the way everyone tells you to take a moment when walking down the aisle at your wedding. I wanted to take it in. Being home, was truly wonderful. Truly wonderful and yet, I don't think any of us will be the same again. Our year abroad changed us in ways that we don't even know yet. And so, in that moment, I knew that a new adventure had just begun. My new normal. And that adventure will take me a second to figure out. So, for now, I hold my people tight and fight for our togetherness even when we are pulled in 1,000 directions. And when I things get overly chaotic, I close my eyes and imagine myself walking along the beach of El Sardinero and I just breathe.