Week One: Urgencias and Interent
Even before our plane landed in Bilbao, Spain, our expectations were very realistic. I made sure of that. I didn't sugar coat anything for the kids. I made sure they knew that things would be incredibly different, sometimes frustrating. I reminded them several times that we were all going to have to be patient, understanding and above all, really work together. Many times since arriving, the world has just seemed more occupied or maybe even smaller over in Europe. There is less space for parking or for our stuff, which isn't a bad thing; it's just a different thing. And then there is the food, which is great but different. I promised the kids that I would try to figure out how to make some of their favorite foods but it would take me a second. I tried my best to set them up with proper expectations. So when we hit the ground running, we took a pause and walked and made sure to take collective breaths along the way.
When we arrived, with our 14 bags, it was hard to pause at all. It was 8pm, we were trying to learn about our apartment, about the keys and take it all in. My wonderful friend here, Maria, was on hand to translate but still, after an across the world flight, some things just didn't register. And those are the things we have been forced to figure out. Like how to jiggle the key just right to get our apartment building door open. Or what elevator goes to what part of the apartment. It is not that it's luxurious, it's just complicated. Wonderfully and maybe sometimes frustratingly complicated, or shall I say perfectly complicated.
They got to choose three stuffed animals. we bought a few fuzzy blankets to make it feel cozy.
Funny enough, the kids really enjoyed getting their rooms set up. New is fun, at first, when you are a kid. I bet they could almost convince themselves it was like a fun hotel or short stay somewhere. But Spider had a rough first couple of days and a very, very tough first night. Once we settled in a bit, we set out for our first dinner at a fun Italian restaurant. I know, we are in the land of Pintxos yet we are going to Italian? Well, sometimes you do things to make your kids smile, and good Italian food is one of those things. The whole walk to the restaurant, Spider was sad. I held his hand and assured him that everything would eventually be ok. Most of the meal, he was sad. And then, that night, he cried himself to sleep. I sat with him and tried to console him but I didn't really know what I could say other than I loved him and that I understood why he was sad. It broke my heart.
But then, the next morning, our little dude woke up with the biggest smile on his face! It made us all so very happy. But then he showed us these little cuts that were bugging him on his chest and arm. Yes, they used to be little cuts. And when he pulled his shirt up, I gasped. And then he started crying again. These "little" cuts had grown into massive infected wounds overnight. It was the craziest thing. It was a Saturday and our first full day living abroad in Spain and I needed a doctor STAT! Thanks to my friend Maria (you will be hearing her name a lot) we were told where to go for the Urgencias, which is basically urgent care. We have insurance but nothing is official until you get you bank account and you can't get your bank account until you make your visa official and you can't get that appointment until after you meet with the Oficina de Extranjeria. So I walked in with my paperwork and our poliza number on a piece of paper. Again, with our broken Spanish and their few words of English, we got in the cue and were called back to see the wonderful doctor in less than 3 minutes. Spider showed him his wounds and the doctor immediately said, STAPH. That is clear in any language!
The nurse and the doctor, only spoke Spanish, no English at all. But they were so kind and spoke slowly and explained the medication to me twice, to Spider once, to Skye once and to Erik twice. We got it. He also said, "No playa for cuatro dias!" Spider, understood every word and although he was crushed, he was also happy to know that everything was going to be ok. That he would heal. Mostly, I was relieved but a huge part of me was shaking my head, thinking, "Seriously, we are on the ground for less than 8 hours and Spider has a staph infection?! And, the little boy who had been so sad and who can't wait to get into the water and surf, has to wait for four days?!"
Isn't it funny how at the beginning of life's big moments, you are often thrown a bit of a curve-ball; a challenging moment from which to learn. I felt so badly for Spider but he handled it like a champ. No tears at all. I told him that I was in it with him and that I wouldn't go into the water until he could. That made him smile.
So, Spider's staph has been our biggest hurdle so far. Maybe it happened so that everything else wouldn't seem so bad. A solid "perspective setting" moment. And, it may just have worked, because, we have been trying to get internet the entire time we have been on the ground in Spain. We thought this would actually be quite easy. We were wrong.
Again, with our limited Spanish and the representatives at Movistar not speaking English, we thought we had figured out what we needed in order to sign ourselves up for a sweet "wifi, home phone, cable tv and 2 cell phones" package. We understood that it would be 48 euros a month. Amazing, right?! We were so excited and felt a huge sense of accomplishment! And then, when we went back the next day she said, "Nesecitamos una cuenta bancario." We need a bank account. UGH! So, we worked the system and again asked Maria for help and secured the mother of all things…A BANK ACCOUNT! Huge moment for us so far. We then went back to Movistar and said, "Este es nuestra cuenta bancaria." They took our information and emailed us later that day to say that Movistar is saying that we need a bank account for six months before we can get service. What? Seriously? No es la verdad! But it was the truth. Apparently, they take your information and arbitrarily decide if you can get service right away or have to wait. In the end, if we had our "tarjeta de residencia" which is our official residence card, all would be fine. But that appointment isn't until Sept 11th. We can't wait until Sept 11th. So, wifi (wee-fee, as they say) has been our second biggest struggle.
Our landlords are the best! They were helping us with Movistar at 9:30pm on Saturday night and have figured out a clever way for us to get it. Their oldest daughter has signed the documents for us! All is resolved, as we should be getting it within the next 48-72 hours. We joke that the hotel down the street, The Chiqui Hotel, is gonna be bummed when we finally get wifi. We went there every other afternoon and ordered drinks in order to hop on their internet.
Even with the minor, or major, hiccups we feel lucky. We know this. As we walk on the beach at night with the kids, I am overwhelmed with the feeling of gratitude. It really does take over every other thought I have for a few moments. As we walk, run, play tag or take in the harvest moon I always take a moment. I pause and I think, "I can't believe we actually pulled this off!"
Other big accomplishments include
-visiting the kid's school
-making spaghetti at home
-securing our surf boards
-buying our pillows (sounds easier than it is)
-buying school uniforms
-all 4 of us surfing a wave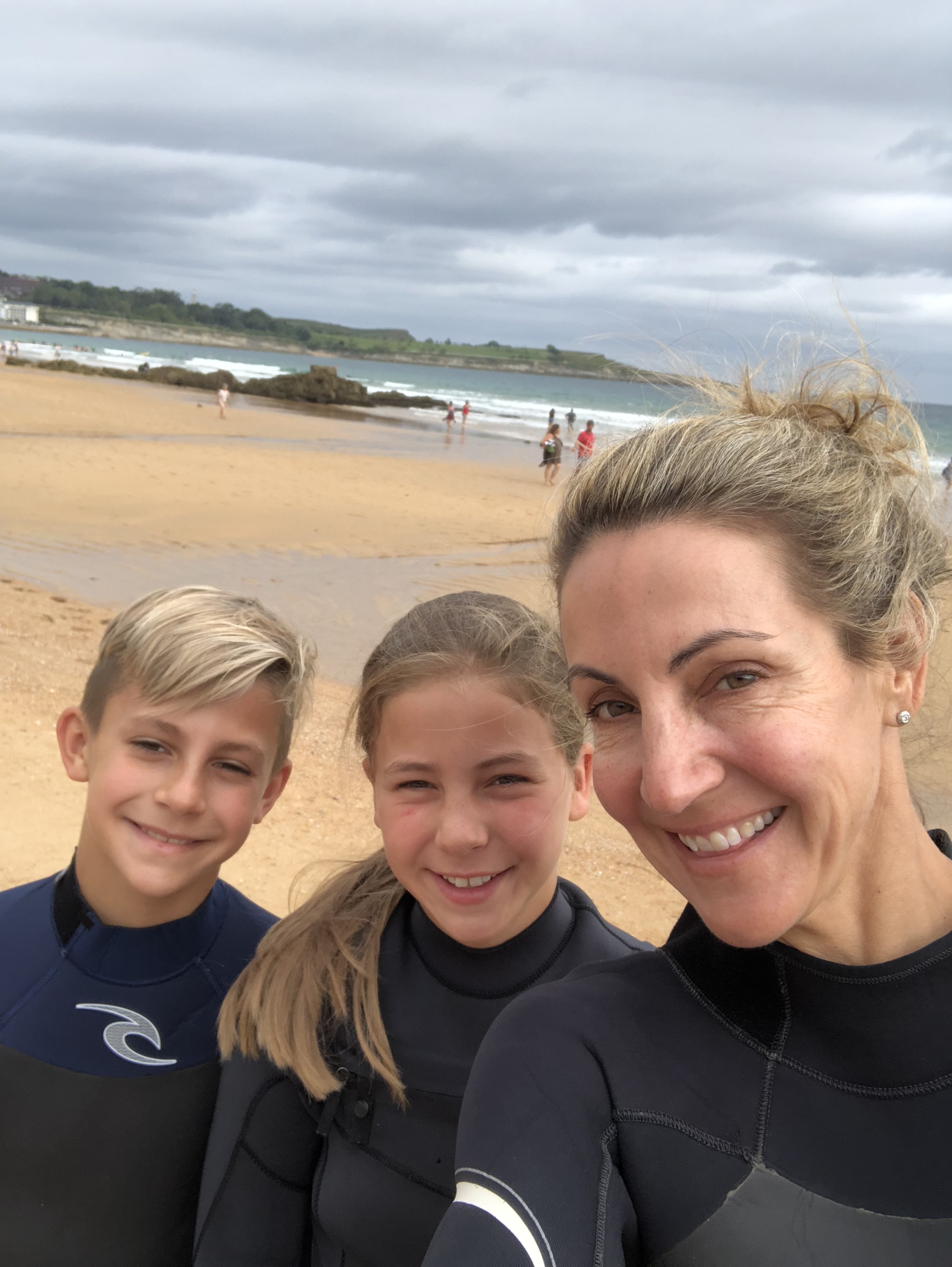 A family who surfs together...
Full belly laughing moments
-when we walked out of a store with merchandise because we thought "Corte de Ingles" was one whole store. That would be like walking out of Crate and Barrel because you wanted to get something a J Crew before paying for all of it, together!
-trying to fix our outdoor gates that bang so loud every night during a nighttime stealth mission
-getting sandwiched into every parking spot but having the best daddy driver on the European planet.
-trying to strap down 4 surfboards to our rental car
-Every single one of the male speedos on the beach…gets me every time!
-The way people stare at us. It happens and we are learning to take it as a compliment
-setting up our hammocks at the beach and in the forest
Things we wished we had brought
-duct tape (it is super expensive here)
-aquaphor (haven't found it)
-bandaids (bandaid brand is truly the best!)
-my face wash and all my face products. (I can't understand any of the packaging yet)
-peanut butter
-oregano oil (cause of my summer cold)
Things we didn't need to bring
-small sporting equipmemt (Decathlon sports is ridiculously inexpensive)
Our favorite things
-fresh bread every morning just downstairs from our apartment
-fresh orange juice
-café con leche a las cuatro
-surfing at the old stairs…we already named our favorite spot.
-this yummy yogurt called Pastoret. I first ate it at the Bilbao Airport when we went to San Sebastian two years ago. Now I can have it every day!!
-the beach outside our front door
What we miss, today and everyday
-our family, friends and animals. Brings tears to our eyes. But their love brings us strength.