Mistranslation has turned into the greatest form of comedy.
Both Erik and I tried to learn Spanish before we got here. Yes, I used the word "tried" which in the world of Erik and Yoda is a no-no. You either do or do not. I used the word "tried" because we signed up for the classes or the tutoring and then life got in the way. Kid's schedules, our work schedules and the flu seemed to occur at the exact same times on the same exact days.
We beat ourselves up over it. Every week we put our hands to our heads and wondered, "How is this happening! We have to make this a priority." Week after week went by. And then, before we knew it, we were knee deep into our last few months of packing up, visiting friends and providing the kids with every experience with their sports and activities that they desired. In other words, we let go and lived in the moment and trusted that when we hit the ground in Spain, our education would truly begin and we would survive together.
Where we are living in Spain there are very few English-speaking people or visitors. That is part of the reason why we chose Santander. In the first 3 weeks that we have been here, I have only seen or heard 5 different families speaking English. And all but one was speaking with a British accent. Plus, the locals are more than happy to struggle through a conversation in Spanish than try to attempt English, which makes us quite happy. But, those conversations can be hilarious.
I want to give you few examples of how badly you can mistranslate what someone is saying to you when you only understand a few key words. Erik and I tend to get a little bit more confident with our Spanish and the understanding of Spanish when we have had a beer. So, the other weekend, we went on an adventure to a few different cities west of us along the northern coast, one of those cities being, San Vicente de la Barquera. It was bustling. I have never used that word before, ever, but the one major little street was the epitome of "bustling" at lunchtime. So much so that two different places told us that they just wouldn't have time to serve us lunch, they had too many people waiting and they had to close at a certain hour! Love it.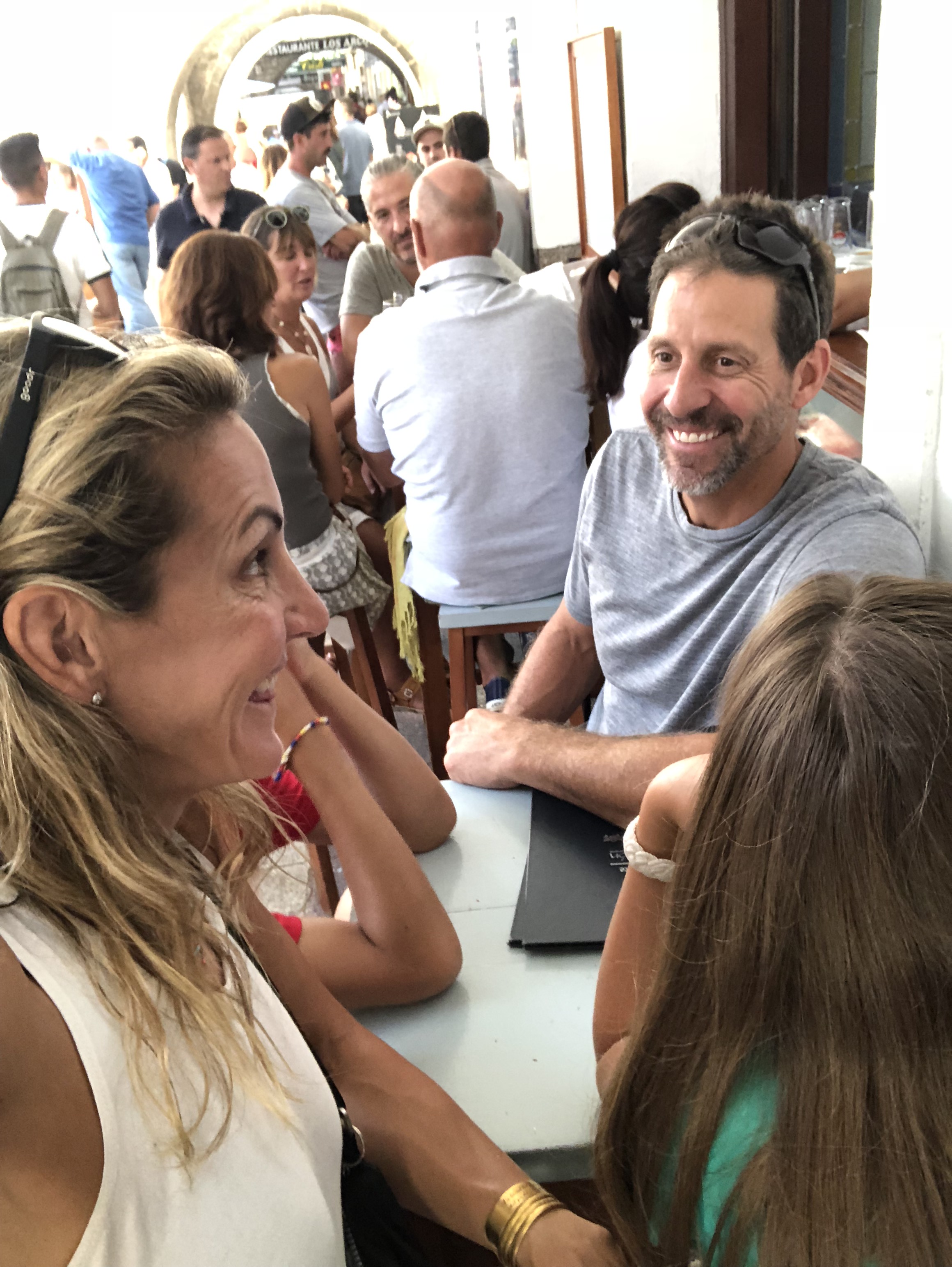 Anyway, we found a high-top table outside of, what seemed to be, a popular establishment, so we grabbed it. Erik and I have actually gotten quite good at ordering. We tend to Google Translate many of the words we don't know that are on the menu and those words have stuck with us. One food item, Pintxo, that I fell in love with when we were in San Sebastian was "pimientos verdes". I know how to say it but I have yet to find them on the menu or la carte. So, when we got our steak at this restaurant and there were 3 pimientos verdes on the plate I asked him "Que son estos?" He replied, as people often do, with this awesome and long explanation. I just kept listening and replying "vale" and "si" occasionally. Then he smiled, we smiled and he left. I confidently said, "I totally understood that!" I told our table, "He said that you will get 10 in an order but be careful as 9 of them will be mild but one of them will be super hot." I was feeling so good about myself but then Skye looked at me and said, "That is NOT what he said at all!" He said, "You know that you have ordered the right thing, mild peppers, because you will get 9 or 10 in an order. But if you only get one on your plate, those are the hot ones."  I wasn't even close.
Skye has saved us numerous times. She is the one who told us what a cute older gentleman said to us after we accidentally walked through a picture he was taking of his wife. We thought he said something quite simple but Skye told us that he went on and on about how we were shorter than the church and that we were not in the way at all. Skye is so cute though, as she always gives us a shot at translating it first. I think she truly enjoys watching us try and then really enjoys giggling with us at our failure!
And Hola is such a nice word to hear.
The most hilarious mistranslation is the random "Hola!" that I proceed to hand out to strangers which turns into the biggest misunderstanding and, therefore, a confusing conversation that lasts ten minutes. Apparently, people do not just say hello to strangers as they catch eyes walking by on the beach or street. If you say hello to someone, you must know that person. I have said hello to so many strangers, especially when I am out for a run. But when I am walking, they stop and, with a look of true bewilderment, ask, "Do I know you?" The first time this happened I had no idea what was going on. I stood there and tried to figure out what they were saying with my whole heart and head, but it just wasn't going to work so I panicked and said, "Gracias. Hasta luego", and ran away.
But the second, third, fourth and fifth times it happened, I knew what they were asking me, which was basically, "Te conozco", "Do I know you?" And I quickly said, "No, tu no me conoces" and continued on with a smile.  That encounter absolutely blows them away and they stand there in a bit of shock for a second or two. One time we hung out with the gentleman who we said hello to and had a nice little conversation. I think I will continue this behavior. I figure if I say Hola to enough strangers I may just know the entire town.
Usually when I don't know something in the moment I blame it on stress. I get so frazzled that I don't allow the words to settle into my brain. And then, I get frustrated and leave the situation feeling like I failed. About five steps out of the conversation I realize what they were saying and am bummed I didn't get a chance to let them know "I got it! I understand!" 
People are so nice about my mistranslation. The other day, the "super" of our apartment building was trying to tell me that the surf store wanted me to know they had some fins for Spider's new board. He told me this as we were heading out for a morning surf session after dropping Spider at school. I was walking down the stairs with my surfboard and he said something that I was sure was, "Please don't carry those surfboards down the stairs, the fins are scuffing up the walls. Take the boards back to the surf shop." So I was trying to explain to him that we were being really careful and that we owned the boards. This mistranslation went on for at least 3 minutes, in the stairwell but, in the end, I got it. He was so sweet and patient. He just kept saying the same thing and I finally listened instead of panicking.  
Skye starts school on Friday and Erik and I start school the following Monday. The school we are attending is called Inlingua and they said to us, "Just sign up for the group class as nobody else will be in Spanish with you." (they all come to learn English) So we did. As of now, our Spanish education has consisted of conversations and watching movies and TV shows including, "Central Intelligence" (although over here it is titled "Spy and a half"),  "Modern Family" and "Kikiwaka" all in Spanish with Spanish subtitles.
It is easy to get frustrated with the language or our lack of Spanish knowledge but, for the most part, we have chosen to laugh it off and remain "tranquillo". We know we will get better. Spider said to us that his Spanish class is easier at day two than it was at day one. Poco a poco! We are putting ourselves out there and when you do that, you may just fail a couple of times. The way we look at it is, "Failing is the best way to learn."